A Bright Future: A Life After Foster Care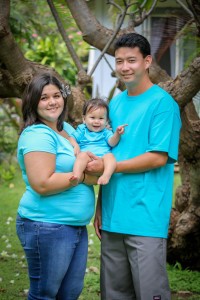 Like the mature kalo dispersing rain water to nurture its keiki, Patricia Duh returns to her roots in the foster care system to share wisdom.
Four foster homes and one homeless shelter later, this 20 year-old Hawai`i native sighs with joy. Having spent over a decade transitioning from one place to another, she now calls Kaua`i home.
Not only is Kaua`i home, it's where this passionate young woman serves the foster care community as advocate and collaborator with youth as board president for HI H.O.P.E.S. (Hawai'i Helping Our People Envision Success) Youth Leadership Board. HI H.O.P.E.S is also the youth advisory board to the State Department of Human Services.
Duh has traveled a long, hard road to reach this milestone.
"I was 10 and lived in a house with uncles doing drugs," she recalled. "I was at school when CPS (Child Protective Services) picked us up."
Duh and her five siblings were dispersed between two foster homes. Four years later the children would reunite with their mother briefly; only to have her die suddenly within two years. Duh returned to foster care, but after a rebellious streak, was kicked out.
The wake-up call came when, at 18, she had to start buying food and paying rent.
"I realized I have to get a degree. I have to change," she said.
Duh attributes the success of her stability to resources made available through a fortuitous intersection between Hale `Opio Kaua`i and Mentoring Connection; while at a shelter Duh became part of the O`ahu program linking volunteers to teens in foster care.
At this point she knew three things: she was moving to Kaua`i; she wanted to go to college, and she envisioned herself serving foster youth.
"As long as I remember I've wanted to be a social worker," she said.
Her Mentoring Connection advisor introduced her to Hale `Opio Executive Director, LaVerne Bishop, who in turn connected Duh to the Hawaii Youth Opportunities Initiative (HYOI), a statewide program offered by Hale `Opio in partnership with EPIC `Ohana.  HYOI is comprised of young people between 14 and 26, who live in or were formerly in foster care. Their goal is to help foster youth transition successfully from foster care to adulthood.
Since moving to Kauai Duh became a mother; a role that has deepened her commitment to service and to nurturing her peers in foster care.
"The trick is connecting youth to the great programs we have," Duh said, referring to Y.E.S, (Youth Empowerment Success), which hosts fun activities for foster youth, like horseback riding, beach days and bowling.
Other noteworthy programs include the First Jobs Academy, a work readiness and life skills training for youth and enhanced management training for employers who become "business mentors;" and Imua Kakou, volunteer case management to age 21, for youth who turned 18 while in State care.
"The reason I want to help foster kids is I feel like a lot of them take a bad situation and think that that is all that life is going to be; just one bad after another bad," she said. "It doesn't have to be that way if you take the bad, put it past you as a learning experience, and do something different.
It's not just parents disconnecting from kids, it's the youth as well. We shut ourself out and we become disconnected. We become unwilling to talk to people and not willing to take the help when it's offered to us."